I would like to be able to:
Do back flips (into the pool)
Go to India
(HOORAY I'm there now!!!)
Learn to speak French & Japanese
Learn more maths (which is my favourite subject)
Paint really nice pictures like LucyArt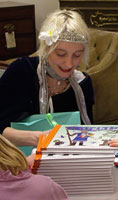 When I'm older I would like to be a policeman to catch robbers.
And a computer genius.